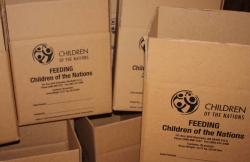 COTN Mission: Partnering with nationals to provide holistic, Christ-centered care for orphaned and destitute children, enabling them to create positive and lasting change in their nations.
In the summer of 2016 we held a meal-packaging event and paid for and assembled 4,100 meals for COTN!
COTN is headquartered a few miles from Vinland, so their ministry is very visible in our community.